Join us for some relaxing Yoga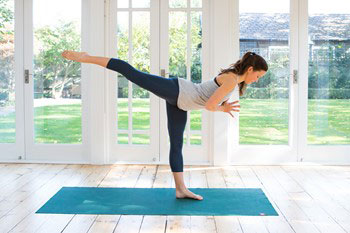 If you're feeling the stress of all those meetings or have just been sitting still for too long watching all our expert speakers, then you might fancy joining in one of our Yoga sessions.
The word yoga means "union" in Sanskrit, the language of ancient India where yoga originated. It's thought to be the union of mind, body and spirit. Practising Yoga increases strength, flexibility, coordination and balance as well as helps to relax and manage stress. Its benefits can not only be felt physically, but it can also help you to focus and concentrate better, improving our overall health and well being.
On Tuesday and Thursday from 1:15pm (BST) for 30 minutes on, you can roll out your Yoga mat and join Steel Media's very own Mr Motivator, Chris James, as he shows us all how to unwind properly under the expert guidance of Katja Heger from Pilates & Yoga with Katja. You're all of course encouraged to join in, but of course this is optional, but you can tune in and watch if you would like (it was quite popular amongst the SM team last time).
YOGA SESSIONS with Katja
Tuesday 9 June – 1:15pm – 1:45pm (BST)
Thursday 11 June – 1:15pm – 1:45pm (BST)
Of course you must be a registered attendee of Pocket Gamer Connects Digital #2 to view these sessions – If you have not registered yet you can do so here!
For more information on Katja Heger and her Yoga and Pilates classes you can visit her website or on her YouTube channel here – Pilates & Yoga with Katja