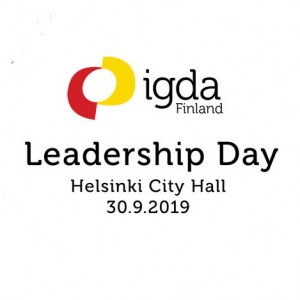 "There are no dedicated games leadership conferences in Europe… so we decided to make one!" That's how the IGDA introduces its September 30th summit, Leadership Day by IGDA Finland.
It's a one-day international event in Helsinki, dedicated to discussing how we build companies, teams and working cultures. It will take place at Helsinki's City Hall and consist of speaker sessions, a working lunch, and an evening mixer. Plus it's free providing you register in advance on the website.
You can read more about it, including a short interview with one of the organisers, on PocketGamer.biz.
It kick-starts several days of essential games industry activities in the region. Our very own Pocket Gamer Connects Helsinki 2019 runs through October 1st and 2nd over at the Cable Factory. So why not make, this a week of quality networking in Helsinki?
We're proud to be a partner of Leadership Day by IGDA Finland. The volunteers at the IGDA do fantastic work building and maintaining the international games community and we've worked closely with them to build the Pocket Gamer Connects series of events since launch. Helsinki remains a must-visit destination for game makers, with its network of successful firms and talented indies. Please join us at the IDGA Leadership Day on 30 September.
The event is free but spaces are limited so pre-registration is essential. If you're going to be in Helsinki that week in order to attend PGC Helsinki on 1-2 October, please consider attending the Leadership Day by IGDA Finland on 30 September, and pre-register now here!