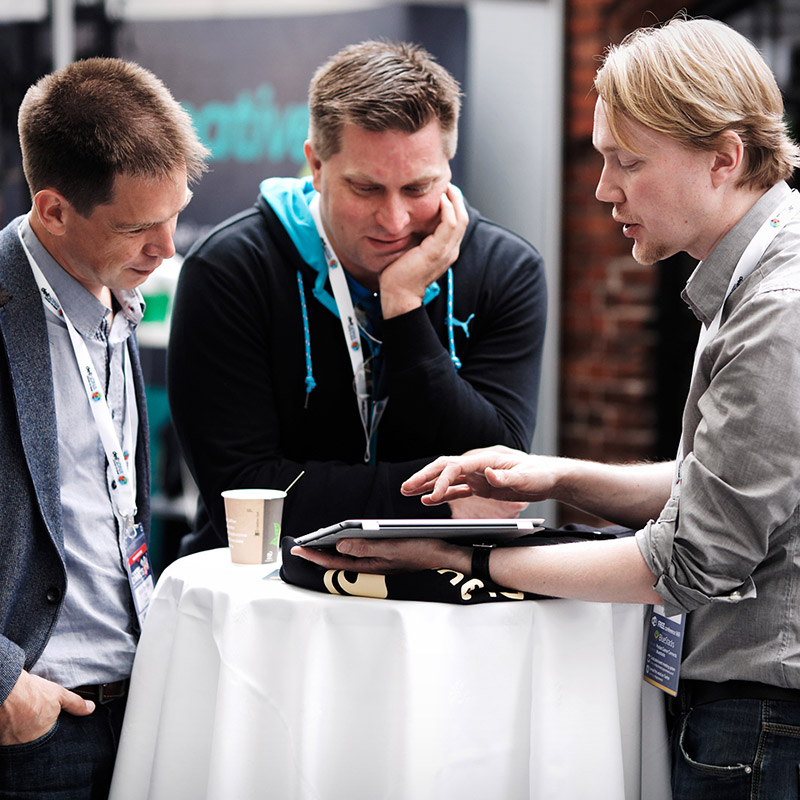 YOUR PERSONAL MEETING PLANNER
Networking, networking, and more networking.
It's the foundation on which our Connects conferences are built.
As part of the Connects experience, you'll have full access to the Connects Pitch & Match meeting service that has been made freely available for all registered delegates to use in order to arrange meetings at the event.
PLEASE NOTE: You must be registered for Connects Seattle in Eventbrite, using an individual email address, in order to be processed into the Pitch & Match system (once live – typically three-four weeks prior to the event).

FREQUENTLY ASKED QUESTIONS
Pitch & Match is an effective meeting system to match your needs to those of other delegates, and then arrange a meeting with just a few clicks in your browser.
Once you're logged in, your Agenda shows each Connects day broken down into 30-minute time slots. Use these to connect with fellow delegates at designated meeting spaces within the venue.
Meeting Zones have numbered tables available and exclusively reserved for Connects Pitch & Match users. In addition to this, each exhibitor can also use the system to book meetings at their own stand or tabletop areas in the main Exhibition Hall. For those not able to reserve a place, we have Meeting Points within the venue to help you meet your contacts.
VIP Ticket Holders have the ability to hold their meetings in the VIP Area. Note that only VIP Ticket holders can invite non-VIP ticket holders into this area (security will be checking IDs on the door).
If you have purchased your entrance ticket through our Eventbrite process then we will automatically add you to the Pitch & Match system.
PLEASE NOTE: The email used to register your Eventbrite ticket is the one the Pitch & Match system will assign to your identity.
Once the system is live (typically 2-4 weeks prior to the conference) you will receive a notification with the log in details. This can take up to 48 hours from new Eventbrite registrations to Pitch & Match activation, but as we get nearer the event we will be doing this with increased urgency – updating the system regularly every day.
How much does it cost to use this service?
It's FREE to all delegates of PG Connects.
You can make as many meeting requests as you like, and accept as many as you can fit in. The only restriction is that you can only fill the total number of available slots in your agenda for the two days.
I've not received my email notification with my log in details, what do I do?
PGC Pitch & Match typically goes live 2-4 weeks before the conference.
Once live, we import new registrations into the system regularly. This typically means within 24hrs of purchasing your ticket to PGC you should receive an email with your log in details.
Occasionally, spam filters can sideline genuine emails but to help get our important emails through we suggest you whitelist emails from pgconnects.com
If you have not purchased a ticket through Eventbrite but have access to PGC as part of a sponsor package – or if you haven't received anything from us – please contact us at [email protected] with details.
So, how do I meet at the event?
Simply log in to the Pitch & Match system – following the above link – and find your potential meeting candidate under the ATTENDEES tab.
Here you can search for people or companies using the keyword text box or using the more advance search options.
Once you find the person, you want to meet, you can see their availability and mutually suggest a meeting in one of the many timeslots.
When you request a meeting, a meeting table can be automatically assigned to you to use (using the "Automatic meeting room reservation" option) or you can propose your own location for the meeting.
If you propose your own location, you can either select one of the Meeting Points available or, using the text field available, suggest a more suitable place.
Your Agenda will help you locate where you need to be. You can also suggest a different location to a meeting table by typing in details of where to meet (just be specific to ensure the other person can find you).
Should you have any problems, we have staff able to assist you at the Registration area.
Do I have to complete my profile?
Completing your profile page with as much information as possible will enable you to network and promote yourself more effectively.
Your preferences or areas of business interest for PGC will enable potential business partners to find you easily, select you from the list and propose a meeting. Likewise, if everyone does the same, you'll be able to find the best potential clients or business partners.
If you choose to not to complete your contact details no-one will tell you off… just bear in mind that this may hinder the ability for your confirmed meeting request to be able to contact you, say, should they need to change the meeting point at the last minute.
What if there are no meeting tables left?
Should the meeting tables available run out for a particular timeslot we've set up Meeting Points that you can manually select when requesting a meeting with someone.
These are for you to meet the person then either find a quiet area to talk, use any available table/sitting space you can find. If you or they are a VIP, remember you can also use the VIP Area.
(There will be some tables available for ad hoc use, but bear in mind these will be limited and cannot be reserved.)
How do I contact the person I am meeting?
Once the meeting between you has been confirmed, then you should be able to see the other person's email address.
If they have provided their phone number on their profile page, then you should be able to see this also.
Can I meet people outside of the venue?
Of course, you are perfectly free to meet people at a more suitable location outside the venue but you accept full responsibility for that location.
You may also want to consider that being outside of the venue may delay you getting to the next talks, panel discussions, meetings, or just hearing any of the latest announcements.
Help, I'm not showing up in the search results!
Well, here's the thing: If the system operated simultaneously across two parallel universes you would indeed be able to request a meeting with yourself.
Imagine the conversation.
As we lack that technology at the moment, you won't show up in any search results if, when logged into the P&M system, you go looking for yourself. Fear not, this is normal.