LIMITED OFFER! GRAB YOURSELF 5% OFF SELECTED PASSES
USE PROMO CODE:
GIMME5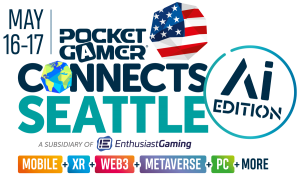 Pocket Gamer Connects Seattle 2023
(May 16-17)
The leading global games industry conference, Pocket Gamer Connects, returns to Seattle in May 2023. Over 1,000 attendees from the games industry will gather for two days to network, discover, pitch and learn from 150 of the world's leading authorities.
Select your ticket type below. Payment is required at the time of booking, so please have your credit or debit card ready. You'll be mailed details of how to access the meeting platform a couple of weeks before the event starts.
Please also check out the side events – many of them require additional application in addition to your ticket, some of them (like the Very Big Indie Pitch) include complimentary tickets for a select few. See the menu items above for more details.
PROBLEMS PAYING BY CREDIT/DEBIT CARD?
A small number of users have encountered issues paying by credit/debit card using PayPal (without logging in).
For those people, we have made it possible to request an invoice from Steel Media Ltd – we can issue you with an invoice if you request it here.
Please note that all invoices are due for payment before the Event. You need to have paid for your ticket before you are sent a special promo code to register here.
BOOK YOUR TICKETS NOW!
Paying by invoice: Our standard Eventbrite form uses PayPal to handle transactions. You do not need a PayPal account: you can checkout as a guest and use a credit card when prompted. A small number of users have encountered issues when doing that, and for them we have made it possible to pay Steel Media directly – we can issue you with an invoice if you request it here.
Block bookings: Please contact Lisa Bisset <[email protected]> if you wish to purchase more than 5 tickets.
Students: The highly discounted student ticket applies to anyone currently enrolled in a games industry-related course (and NOT currently in employment within the games-related industry – i.e. not a developer/UA manager/etc in possession of a student card). This is checked and ineligible tickets will be cancelled. Please note that students need to be over the age of 18 to attend the conference and over the age of 21 to attend any of the networking sessions where alcohol may be available.
Universities/colleges: We have a program of free tickets for participating universities. Please contact Charlie Scowen <[email protected]> for details.
Press/media: We have complimentary press passes for legitimate press representatives. Please apply for accreditation.
Overseas delegates: We are happy to help with invitation letters to support a visa application – please contact [email protected]. Information about traveling to the US can be found on the US Customs and Border website. In addition to your valid passport, please make sure you have the necessary travel documentation (visa, or visa waiver/ESTA, or similar authorization). Your ESTA eligibility can be confirmed at the US Department of Homeland Security website. Steel Media is not responsible for arranging ESTA applications (more terms and conditions are available here). Please note that the US requires proof of a negative COVID-19 test when entering from certain territories. Consult your flight provider or travel agent for details.
VOLUNTEERS WANTED: We're looking for keen people to help us. All qualifying volunteers get a free pass to the conference. Please complete the Connects Volunteer application form.
ALL ENTRY IS SUBJECT TO OUR TERMS AND CONDITIONS