As part of PG Connects Seattle, we're running a two-day summit focusing on the next wave of web3 games technology including blockchain games, NFTs and the metaverse.
Blockchain, NFT, web3 and the metaverse are undeniably the hottest topics in the gaming space right now and the Blockchain Games Next Summit is designed to provide a space to explore the potential scale of the market and the best way to implement these technologies.
Taking place alongside our established PG Connects Seattle games conference, you will also have the opportunity to connect with the established games industry as 1,000 professionals gather and network via our bespoke meeting system, expo area and networking fringe events.
N.B. Every Blockchain Games Next ticket also comes with full access to the rest of the PG Connects conference featuring hundreds more speakers to learn from and delegates to connect with.

Cutting edge talks, seminars and panels with thought leaders
So what topics and speakers can you expect to see at the Blockchain Games Next Summit? Below you will find an overview of our themed tracks and the thought leaders who will inspire you to invest in the new frontiers of gaming.
Play As You Earn: Learn from experts, the ins and outs of building successful player owned economies.
New Market Monetiser: Make the most of new advertising formats, IAPs and other monetisation developments in this focused track.
NFT Know-how: Non-fungible tokens: how unique digital assets are changing the way we play today.
Mapping the Metaverse: The future starts here! Discover the cutting edge of communication and entertainment in this overview of developments in the immersive space. We map the frontiers and reveal essential jumping on points.
Building on Blockchain: An introduction to what blockchain means for any developer – with insights into the technology and how crypto works with games.
Speakers include…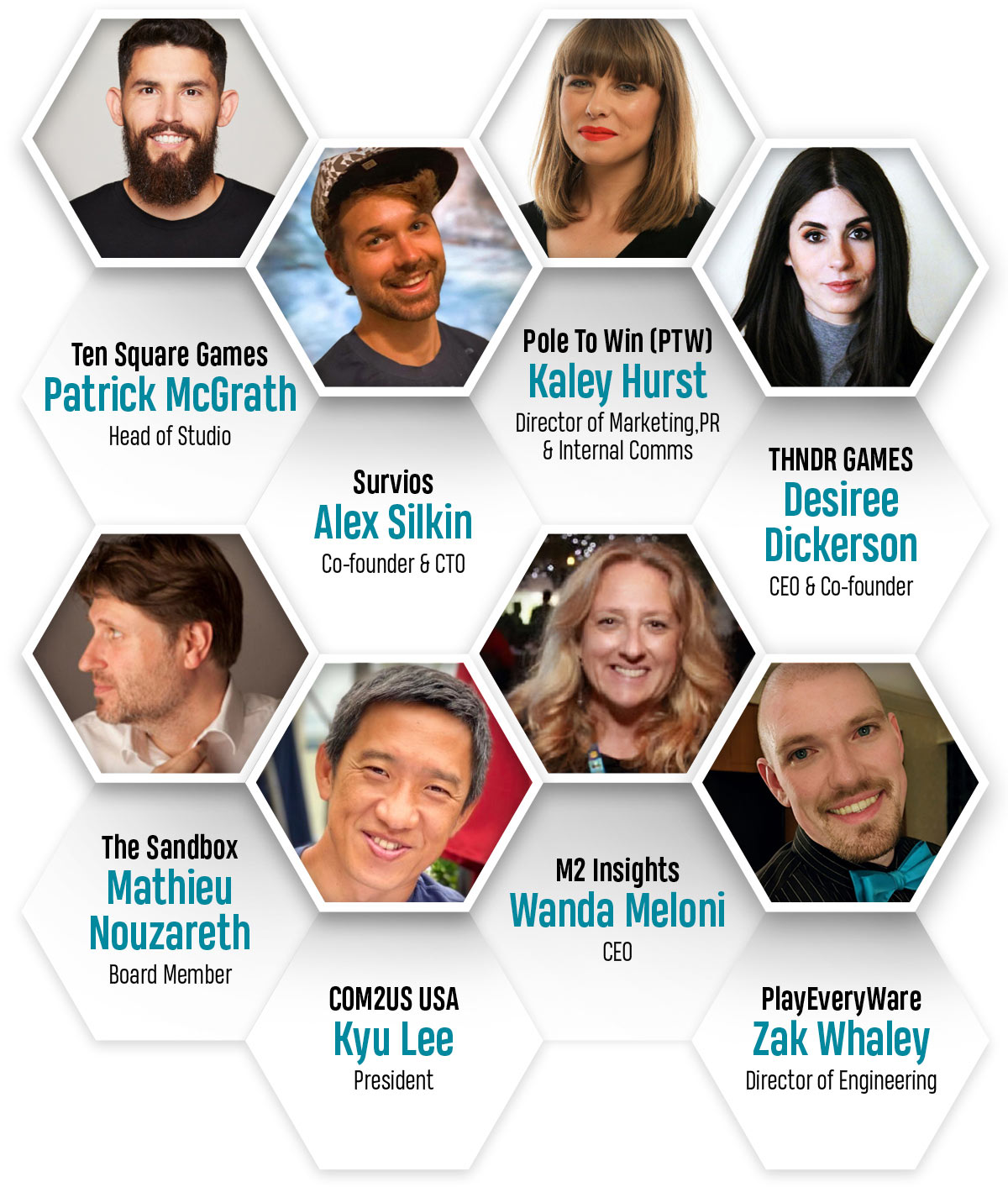 Top speakers include:
Ten Square Games
Patrick McGrath, Head of Studio
Survios
Alex Silkin, Co-founder & CTO
Pole To Win (PTW)
Kaley Hurst, Director of Marketing,PR & Internal Comms
THNDR GAMES
Desiree Dickerson, CEO & Co-founder
The Sandbox
Mathieu Nouzareth, Board Member
COM2US USA
Kyu Lee, President
M2 Insights
Wanda Meloni, CEO
Steel Media – the future of the games industry is our business
Whilst Blockchain Games Next is a new addition to our PG Connects Seattle conference, Steel Media are certainly no strangers to the Blockchain space or indeed evangelising new gaming technology.
Having pioneered in the mobile games space as far back as 2006, we began to discuss blockchain games from 2018 via the dedicated Blockchain Gamer Connects show in San Francisco, dedicated tracks in our PG Connects conferences and the launch of BlockchainGamer.Biz website. More recently we ran the first Blockchain Games Next summit at GDC in 2019 (before the event industry shut down), launched our future-looking games BeyondGames.Biz site and event series, and ran a Metaverse Mixer at GDC in March.