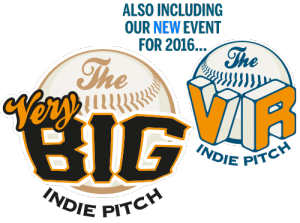 (Looking for the VR Indie Pitch? Right here, muchachos.)
The Very Big Indie Pitch is a mammoth developer pitching competition open to all types of independent developers, wherever they are based.
At the event a host of leading mobile game journalists will be gathered together with partner judges to run the rule over a selection of pre-filtered games.
The developers are allowed 4 minutes to pitch to each journalist table in a 'speed dating' style. Once everyone has pitched, the journos confer and pick the finalists who progress through to pitch live to an expert panel of judges for the Grand Prize.
Aside from the chance to get their game in front of the leading media influencers and potential publisher partners, this VERY Big Indie Pitch also rewards the top developers with a share of a promotional prize package worth $7,000.
For more information about the event and previous pitchers and winners please read our BIP INFORMATION PACK.
PGC Helsinki Very Big Indie Pitch 2016 submissions are now closed.  
The VBIP schedule currently looks a little something like this:
MONDAY 5TH SEPTEMBER 2016
2:00pm – Introduction
2:05pm – Representatives from the VBIP sponsors, and fellow judges, introduce themselves
2:15pm – Pitching begins
6:00pm – Pitching ends, judging begins
6:30pm – Very Big Indie Pitch FINALISTS announced
TUESDAY 6TH SEPTEMBER 2016
10:00am-5:00pm – Very Big Indie Pitch Finalists Showcase
5:45pm – Very Big Indie Pitch FINAL
JUDGES
Ahmet Zayifoglu – Portfolio Director, Mobile & Browser Gameforge
Carlos Lievano – Sr Marketing Manager, Amazon Appstore
Mike Hines – Developer Evangelist, Amazon
Eric Lagel – Senior Producer, JAGEX
Steve Escalante – GM, Versus Evil
Colin MacDonald – Games Commissioner, Channel 4
Oscar Clark – Unity Evangelist
Randy Barenscott – VP Advertising Zplay
Yufei Wang – President, Guangzhou Starfun Technology CO., LTD.
Sjeord De Jong – Evangelist, Epic Games
Jyri Partanen – MD, remote control productions
Aaron Ludlow – Product Manager, PlayStack
Matt Dixon – BD Director, Chillingo
Dave Bradley – Editorial Operations Manager, Pocket Gamer