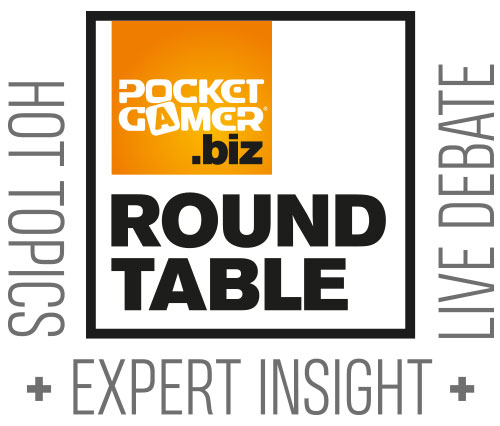 The PocketGamer.biz RoundTables series is a new initiative, bringing to life the expert insight offered each day on the PocketGamer.biz website and introducing some of the best experts and speakers in the games industry. The free RoundTables typically run on a weekday afternoon a couple of times per month, and recent topics have covered how to pitch your game, the challenges of working from home, and the future of monetisation.
The next four entries in the series will all take place on Friday June 12th, when you'll be able to watch four hour-long round-tables, starting at 10am, 11am, 4pm and 5pm. Sign up now to receive free access to watch these live on Zoom.
They are taking place alongside Pocket Gamer Connects Digital #2! If you want to see the rest of the conference, which includes 200 speakers delivering talks, seminars, fireside chats and panels throughout the week, you'll need to register for a separate conference ticket. The conference includes access to our MeetToMatch meeting platform so you can arrange conversations with other attendees, experts and speakers.
But even if you don't want to join the rest of the conference, these four PocketGamer.biz RoundTables will be viewable on Friday June 12th from 10am – sign up now!
10am – Best Practices for World-class Recruitment
What is the best way to attract and retain the right talents for your company?
Featuring: Ric Cowley, PocketGamer.biz (mod); Alexei Ryan, Rovio; Celine Pasula, Fingersoft; Eamonn Vann Harris, Rebellion; Oleg Paliy, Games Factory Talents; Liz Prince, Amiqus
11am – A Foolproof Guide to Approaching a Publisher
A guide for studios, as part of our series celebrating The Art of Publishing
Featuring: Matthew Forde,PocketGamer.biz (mod); Martine Spaans, Tamalaki; Bobby Wertheim, SEGA Europe; Pierre Vinson, Koch Media / Deep Silver; Nir Miretzky, CrazyLabs; Simon Prytherch, Kwalee
4pm – Recruitment: Looking for the Holy Grail
What are companies looking for? What are the hardest traits to find in the candidates? Can someone become the 'unicorn' or is it a myth?
Featuring: Ric Cowley,PocketGamer.biz (mod); Alexei Ryan, Rovio; Miia Hakala, Critical Force; Cami Smith,AIE; Tim Cullings, Seattle Indies
5pm – Publishers & Developers – Exploring the Core Relationship
Making a game is the first step: then you have to get it to the players. Our panel discusses the ins and outs of the games business
Featuring: Matthew Forde,PocketGamer.biz (mod); Pierre Vinson, Koch Media / Deep Silver; Dhaunae De Vir, Paradox; Mark Hickey, Devolver Digital; Teppo Soininen, Independent; Jake Parker, Kwalee
This is a great opportunity to see, for free, the kind of expert content that PocketGamer.biz regularly brings together in its RoundTables and at the Pocket Gamer Connects Digital conferences.
See you on Friday June 12th on Zoom!
You can sign up for these RoundTables here
Future topics will include:
How to Pitch Your Game

Imitation vs Innovation – the Anti-Copying Discussion

The Art of Publishing

The Future of Monetisation and Free-to-Play

Careers Special: Best Practices for World-class Recruitment

The Evolution of Hypercasual Gaming

The Top 50 Game Makers List 2020: Discussing the Results

Transmedia and the Metaverse: the Future of Gaming